From metal keys to smartphones: The way we open doors and access various spaces has undergone a remarkable evolution. Smartphones have become an increasingly popular replacement for traditional keys and NFC transponders. In this article, we will delve into the growing popularity of mobile credentials while also exploring the well-established realm of NFC cards.
Smartphone as the Key on the Rise
The data of our mobile key platform confirms a steady growth of mobile credentials. The accompanying diagram illustrates the development of mobile credentials compared to NFC transponders in the Tapkey App over the past five years. The data has been meticulously analyzed, providing valuable insights into the evolving landscape of access technologies. The statistics clearly show that the proportion of users employing their smartphones or other mobile devices (such as the Apple Watch) as a key has steadily increased. While at the beginning of 2018, 33% of Tapkey users relied on mobile credentials, by mid-2023, this number has surged to more than half (53%). The upward trend of mobile credentials remains evident and shows no signs of slowing down. The acceptance of cloud-based technologies in businesses and organizations has supported the growth in the use of mobile credentials.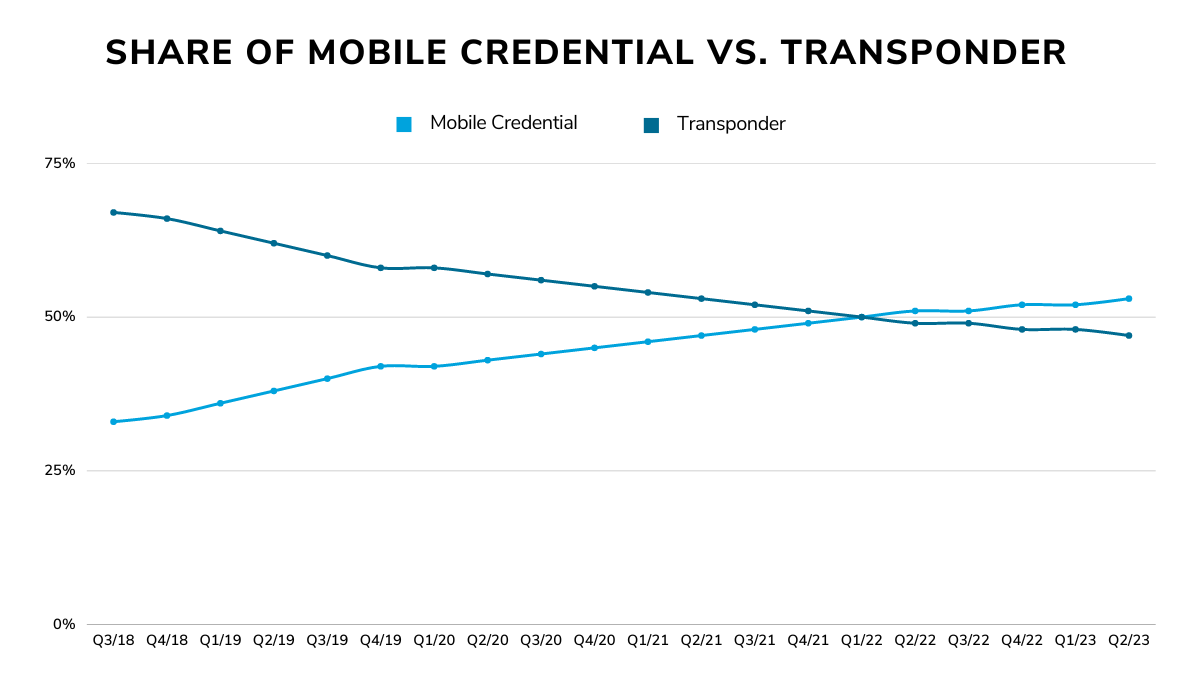 Reasons Behind the Trend
The continuous growth of mobile credentials can be attributed to various factors:
1. Security
Mobile credentials often offer enhanced security compared to traditional keys. Such systems facilitate strong encryption technologies, making them challenging to manipulate or hack. Lee Odess, a renowned voice in the industry, also emphasizes the importance of security while highlighting the significance of a positive and seamless user experience.
2. User Experience
Another advantage is high user-friendliness and ease of handling provided by mobile credentials. Nowadays, most people carry their smartphones with them at all times, whether in their pockets or hands. This reduces the need for separate physical transponders and enables easy access permissions management, particularly appealing to businesses.
3. Flexibility
The versatility and flexibility of mobile access are among its most notable advantages. A smartphone can unlock – in its nature of a digital keyring – not just one but multiple doors belonging to different locking systems. Users can conveniently manage access permissions for various rooms or locations through a single app, making smartphones as a key highly practical.
Tapkey Supports Both: Mobile Credentials & NFC Transponders
While NFC transponders remain relevant in certain domains, such as holiday apartment rental, the diagram clearly shows a shift towards mobile credentials as the leading access method. Nevertheless, the data also emphasizes that the use of NFC tags for door access should not be underestimated. Tapkey's solution is well-prepared for this dual landscape, offering offline key capability and seamless cloud-based transponder management. Users can directly write transponders with their smartphones and manage them through the Tapkey App. The growing acceptance of mobile credentials underscores that the future of access is undoubtedly smart—and it literally lies in the palm of our hands.