Strandberge and Tapkey: The Success Story
In cooperation with Tapkey, Strandberge, a private holiday apartment rental, has significantly simplified the key handover process for its guests. Previously, the owners, Lara and Andy, had to coordinate countless mechanical keys, but now they use Tapkey to save time and money.
Now, all five holiday apartments in "Landhaus Obermaiselstein THE VIEW," located in the picturesque Allgäu region, are equipped with smart locks and furnished with contemporary decor to ensure a comfortable home away from home experience for guests.
Smart Lock on Every Apartment Door
When searching for a digital access control solution, compatibility with all doors and gates was particularly important. "We wanted a uniform, long-term, and flexible solution for our locking system," explains Lara.
To ensure maximum security and convenience, every apartment door in the holiday complex was fitted with a Tapkey Smart Lock, along with the communal front door. Smart locks were also installed on private spaces, such as cleaning cupboards and storage areas that guests should not have access to. Furthermore, the digital locking system was extended to include the garages, which were seamlessly integrated with the Tapkey Access Manager.. So far, the Tapkey solution has impressed, as "all smart locks run perfectly."
The entire range of smart access options is used: as private individuals, Lara and Andy use their smartphones and Apple Watches to unlock the doors. Additionally, they provide NFC tags to their guests for accessing the doors.
Impressive Ease of Installation
According to Lara, the installation of the smart locks was very easy.
"The digital part of the installation, i.e., activation with the ID card, was not nearly as complicated as I imagined it. It went really quickly and smoothly," she says.
Lara emphasized that the key aspect of installing the hardware was to ensure accurate measurements of both the door and the old cylinder. To achieve this, the step-by-step measuring guide should be followed.
Accessing Holiday Apartment With NFC Tags—For All Age Groups
When renting out their properties, the owners increasingly rely on the use of NFC tags to automate the key handover. Guests receive an NFC tag that they can collect and hand over without contact. Why not directly with the smartphone? Using smartphones directly for key handovers may not be ideal as the digital proficiency of guests in the Allgäu region, which ranges from 25 to 80 years old, varies significantly. Nonetheless, all guests appreciate a hassle-free check-in process, which NFC tags provide as a self-explanatory key replacement.
"We opted for a practical standard solution and exclusively use NFC tags that we hand over to our guests in a contactless manner via an ordinary key box for access control in our holiday apartments. This gives us the opportunity to use the advantages of Tapkey even with conventional NFC keys" says Lara.
The guests appreciate the simplicity of the process. NFC tags are also primarily used for cleaning staff, which can be carried on the keychain around the neck or in the pocket. Additionally, doors can be effortlessly opened even while wearing cleaning gloves. Privately, the owners open their own apartment door with their smartphone or Apple Watch.
Increased Flexibility in Access Control
The hosts explain that "the decisive factor for the switch to Tapkey was to reduce the number of keys issued to guests and , above all, to make access control as flexible as possible for the future."
With the old locking system, each guest received a house key, an apartment key, and possibly even a garage key—similar to a multi-family house. With Tapkey, the number of physical keys issued could be significantly reduced. Because multiple authorizations can be stored on the NFC tag.
"Whether it's the front door, apartment door, or garage—with just one NFC transponder, all doors are now open to our guests," says Lara.
Goodbye to Lost Keys!
Security is a major concern when renting vacation homes. Every week, there are new guests who spend a lot of time outside in the mountains, which increases the risk of losing keys. With NFC tags, the risk is lower because they can be quickly deactivated through the Tapkey App and a new one can be created if necessary, without giving an unauthorized person access to the apartment.
Strandberge plans to continue working with Tapkey in the future to further improve digitization and impress its guests with state-of-the-art and efficient technologies.
Interview with Lara und Andy, Owner | Strandberge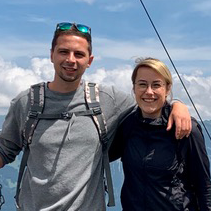 Lara and Andy are the owners of the country house Obermaiselstein THE VIEW. Under STRANDBERGE, they share their love for the probably lesser-known well-known holiday destinations and their vacation rentals with their guests. STRANDBERGE – that stands for unforgettable moments in special places that feel like home.