Smart Access, Made Even Easier
Enjoy the same benefits from the Tapkey App scaled down for your Apple Watch. Gain easy access with your Smartwatch. No more going on runs with your phone, as you will only need your watch to be able to open your front door! From now on, you have quick and easy access from your wrist.
Log into your account on the Watch and all your available locks will be displayed within the app. By simply tapping on your key, you can open the locks of your choosing. As usual, when the green check appears, it means it's unlocked.
Adding and removing locks, as well as granting and revoking access, is not possible with the Apple Watch, as we have tried to keep it as straightforward and easy to use as possible.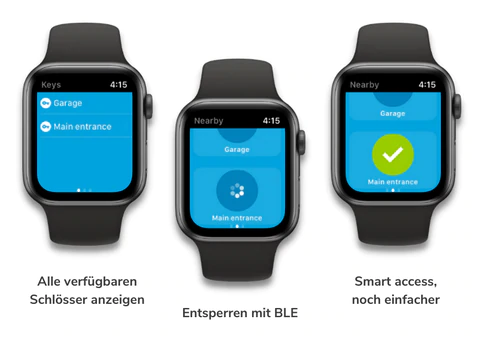 Get the Tapkey Apple Watch App!
As to how you will get it on your watch: if you're downloading the Tapkey App for the first time, then the App for the watch will also be downloaded with it and appear. For those that already have the Tapkey App installed, the Watch app will automatically appear when you update the app.
You may have a few questions about how the feature works in detail. Our help center article will guide you through the whole process. Take a look here!