We have a new feature for you: Office Mode! It allows you to keep doors permanently open, e.g. during office hours. Discover all about what this feature allows you to do in this blog post.
Always open – for a certain time
A permanently open door can make everyday life so much easier, especially for offices, coworking spaces, the hotel industry and retail. So from now on, this option can be included when assigning permissions. You can choose between two types:
Office Mode for a limited period:

The authorisation of a user is limited to a certain period. In this case, the door can be opened within the selected period and is automatically locked once the period is over.

Office Mode for an unlimited period:

If the permission is not limited in time, the door remains unlocked after it's been opened until it is deliberately closed again.
Let's explain option 1 using an example. You have an office & are the owner of a Tapkey Smart Lock. During working hours (e.g. Mon-Fri 9am-5pm) the office should not only be accessible to employees, but also to suppliers, messengers or customers without a key. Enter: Office Mode. You give selected employees permanent open access and when such an employee enters the office in the morning, the door remains permanently open. This is the case until the lock closes automatically in the evening when the permission ends. It goes without saying that the door can also be closed earlier if there's no one in the office.
With option 2, the feature works in the same way in principle, except later on the door is not locked automatically. In this scenario, the door must be locked manually at the desired time.
If an attempt is made to open a lock that is already open, the Tapkey app displays the message "Already open". The time of relocking is not updated and remains unchanged. For example, if Anna opens the lock with the restriction that it will close again at 6pm, and then Bernd opens it with unrestricted access, the lock will still close at 6pm.
The feature is not only available on smartphones; you can also use NFC transponders and cards.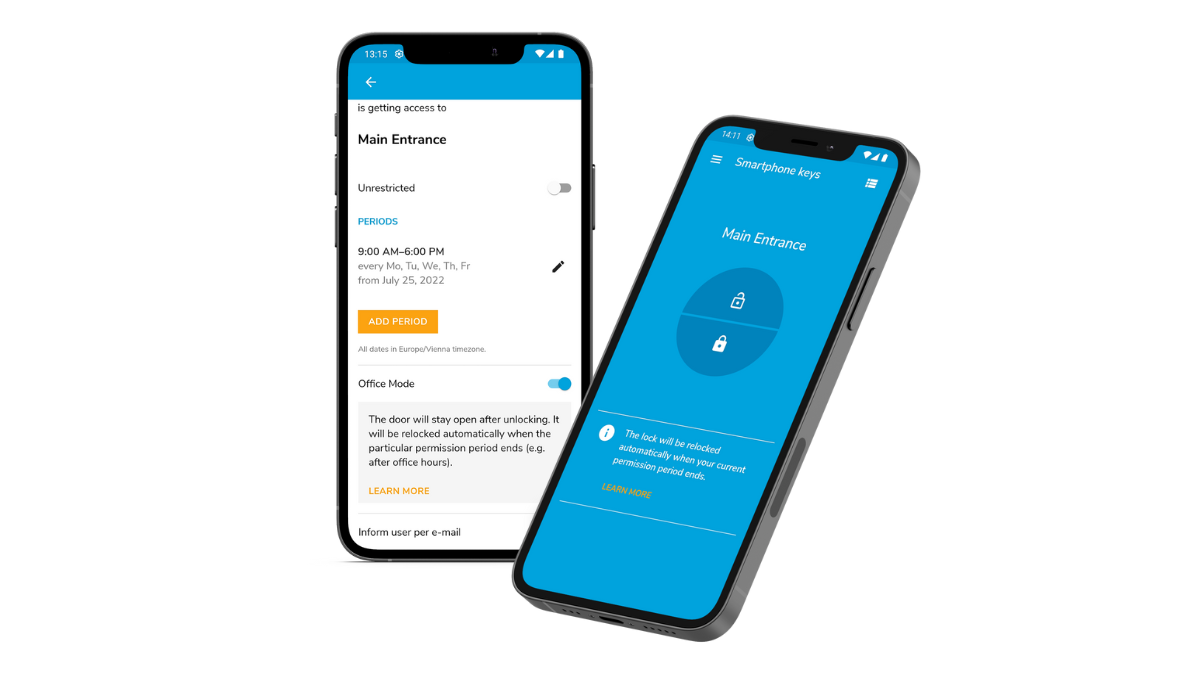 Technical details
Office Mode is available in the Tapkey app as of version 2.26.0. If a permission with activated Office Mode is used in an older version of the app, the lock may act as if Office Mode is not active.
The feature is currently available for the following locking devices:
Tapkey Smart Lock or DOM Tapkey PRO V2 (Cylinder, from firmware v4.1)

DOM Tapkey GUARD (Door fitting, from firmware v4.1)

DOM Tapkey LoQ (Furniture lock, from firmware v4.1)

DOM Tapkey ACM Compact (Wall reader, from firmware v4.1)

Tapkey Padlock (from firmware v4.1)

Tapkey Half Cylinder (from firmware v4.1)

Tapkey Smart Reader (from firmware v3.0)
If you have a Tapkey-enabled locking device with an older firmware version, you can check whether a firmware update is available on your device and simply update it using your smartphone app. If you're unsure which firmware version your lock has, you can easily check it in the Tapkey app. Click here for detailed instructions. Please note that no update is available for older devices (e.g. DOM Tapkey products with a FW version prior to 3.0).
More information
How do I use Office Mode to unlock my door?