Are you looking for a modern alternative to the conventional, mechanical interior door lock? Then you've come to the right place. Unlike locks for exterior doors, where features such as weather resistance are particularly relevant, in this overview we have categorized specifically according to inside use—smart locks for apartment doors, wall readers for wall mounting and furniture locks for cabinets and cupboards. All indoor digital locks are easy to install and offer numerous advantages over traditional mechanical locks. Find our overview of all indoor digital locks that can be easily opened with the Tapkey App down below. 
Digital Locks for Residential and Interior Doors
If you're looking for a modern and secure smart lock for an interior door, there are many different models to choose from. The functions and features of the different locks can vary. Should the lock work with both Bluetooth and NFC? Here, the range of the connection is crucial. While this is usually between 10 and 30 meters for Bluetooth, NFC is designed for short distances (up to 10 cm). Should the Smart Lock – in addition to the smartphone – also be opened with other NFC-enabled devices such as a card or transponder? Can the lock be installed by yourself or does it require a specialist? 
With the Tapkey Smart Lock, for example, you have to measure your door in advance (inside & outside dimensions), but you can install it yourself in less than 3 minutes. And neither cabling nor an internet connection is required. Our mortise lock ÜLock fits unobtrusively into any room door thanks to its stainless steel faceplate. There are also small but subtle differences in door fittings. It is therefore important to consider the specific requirements for your use case before deciding on a particular lock.
Locks
Tapkey Smart Lock
Tapkey Halfcylinder
ÜLock Mortise Lock
DOM Tapkey Guard S
DOM Tapkey Guard
POWER SUPPLY
No, runs on battery
No, runs on battery
Battery or external power supply (inductive)
No, runs on battery
No, runs on battery
PANIC FUNCTION*
No
No
Yes
Yes
No
DIY INSTALLATION
Yes
Yes
Yes
No
No
RADIOTECHNOLOGY
BLE, NFC
BLE, NFC
BLE
BLE, NFC
BLE, NFC
DRILLING PROTECTION**
Yes
Yes
n/a
n/a
n/a
COMPABILITY WITH MECHANICAL KEY
No
No
Yes
Yes
Yes
USE CASES
Outdoor & inside use for shared workspaces, the office or your home
For outdoors & inside. Garages, closet doors and more
Almost any door (outside & inside) for offices, stores, family houses and more.
Outside & inside. Home, coworking spaces, and more.
DATASHEETS
Datasheet
Datasheet
Datasheet
Datasheet
Datasheet
* Must match the door or lock! Ask your local security expert.
**Must match the door hardware! Ask your local security expert.
Wall Reader for Wall Mounting
In addition to smart locks, door fittings and mortise locks, there are also so-called wall readers. These are installed on the wall to read access authorizations. As a rule, wall readers are operated with permanent power cabling and therefore require installation by a specialist—as does our Tapkey Smart Reader. They are suitable for access points where hardware and cylinders cannot be installed, such as barriers, elevators, automatic door systems, and more.
| Locks | DOM Tapkey Accessmanager | Tapkey Smart Reader |
| --- | --- | --- |
| POWER SUPPLY | Yes – standard switch box or PoE | Yes – permanent power cabling |
| PANICFUNCTION* | No | No |
| DIY INSTALLATION | No | No |
| RADIOTECHNOLOGY | BLE, NFC | BLE, NFC |
| DRILLING PROTECTION** | n/a | n/a |
| COMPATIBILITY WITH MECHANICAL KEYS | Depending on door type | Depending on door type |
| DATASHEETS | Datasheet | Datasheet |
Furniture Locks for Boxes and Cabinets
When thinking about locks for indoor use, furniture locks cannot be missing from the list. With our DOM Tapkey LoQ furniture lock, personal valuables or important documents can be stored and protected in a cabinet, box, or drawer. But it can also be used to lock roller containers and parcel boxes. Padlocks, such as the Tapkey Padlock, reliably secure basement compartments or containers, for example.
Thanks to the variety of products at Tapkey, you can conveniently equip not only several room doors but also cabinets and boxes with smart access technology and thus operate them keyless with just your smartphone.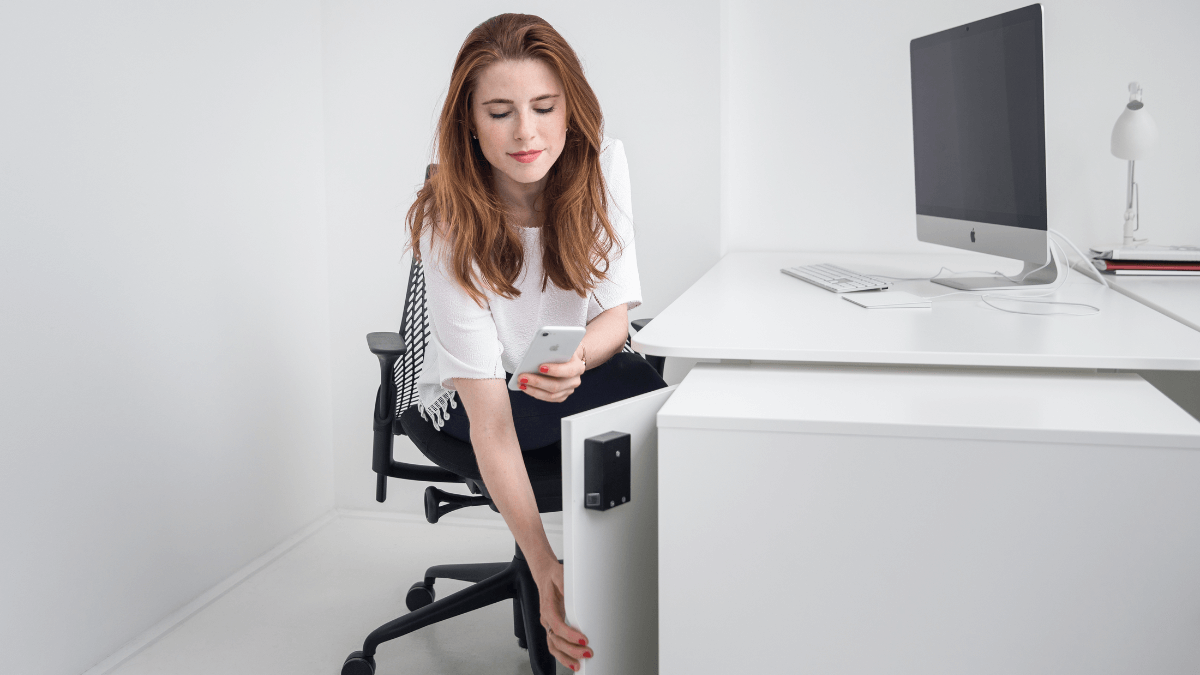 | Smart Lock | Tapkey Padlock | DOM Tapkey LoQ | Furniture Lock |
| --- | --- | --- | --- |
| BATTERY-OPERATED | Yes | Yes | Yes |
| DIY INSTALLATION | Yes | No | Yes |
| RADIOTECHNOLOGY | BLE, NFC | BLE, NFC | BLE, NFC optional |
| USE CASES | Gates, barns, containers as well as cellar compartments and more | Cupboards, cabinets, boxes as well as lockers and more | Lockers, roll containers, boxes as well as parcel boxes and more. |
| DATASHEETS | Datasheet | Datasheet | Datasheet |